Welcome to the Vintage Tractor Experience where you can hire everything from just a vintage tractor to a fully decorated trailer for your guests. Specialities include weddings, school proms, private parties as well as film and TV props.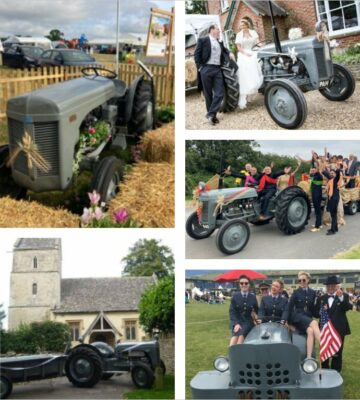 We have a range of classic Ferguson Tractors and authentic implements to suit your needs. Whether it's our fabulous grey Ferguson tractor and tipping trailer for your wedding transport, or our yellow industrial for a period film or TV set, our equipment is in demand, please drop us a line.
Specialising in the Ferguson TE20 series, the tractors are all restored back to the authentic specification and standards of their heyday in the 1940's, 50's and 60's. A range of Ferguson implements and accessories complement the collection and are all in original working order.
Our base in the Chiltern Hills is well located for London and the Home Counties and we are able to trailer our fully insured collection to a location of your choice.
Call us now on 07740 173225 to discuss your ideas, or you can send an email info@vintagetractorexperience.com
VTE will attempt to accommodate all reasonable requests and we look forward to hearing from you.